Functional​ ​beauty.​ ​That​ ​perfectly​ ​describes​ ​Structural​ ​Concepts'​ ​Reveal®​ ​food​ ​display​ ​cases. Designed​ ​with​ ​frameless,​ ​insulated​ ​glass​ ​and​ ​superior​ ​refrigeration,​ ​every​ ​Reveal®​ ​​ ​model beautifully​ ​blends​ ​and​ ​disappears​ ​into​ ​any​ ​environment,​ ​keeping​ ​the​ ​focus​ ​on​ ​the​ ​food,​ ​not​ ​the display.​ ​Made​ ​in​ ​the​ ​USA​ ​advanced​ ​engineering​ ​ensures​ ​safe​ ​food​ ​temperatures​ ​and​ ​no condensation.​ ​In​ ​other​ ​words,​ ​they're​ ​pretty​ ​​and​​ ​they​ ​perform.
Structural​ ​Concepts​ ​wanted​ ​to​ ​launch​ ​their​ ​​Reveal®​ ​product​ ​line​ ​in​ ​June​ ​of​ ​2017​ ​hoping​ ​to increase​ ​sales​ ​by​ ​33%​ ​within​ ​the​ ​first​ ​12​ ​-​ ​18​ ​months.​ ​They​ ​reached​ ​out​ ​to​ ​Revel​ ​for​ ​help launching​ ​Reveal® ​and​ ​encouraging​ ​consultants​ ​and​ ​dealers​ ​to​ ​take​ ​notice​ ​and​ ​take​ ​action.
We​ ​dove​ ​into​ ​this​ ​project​ ​by​ ​first​ ​researching​ ​Structural​ ​Concepts'​ ​customers​ ​to​ ​gain​ ​some valuable​ ​insights.​ ​Then​ ​we​ ​put​ ​on​ ​our​ ​thinking​ ​caps​ ​to​ ​develop​ ​a​ ​plan​ ​utilizing​ ​print​ ​and​ ​digital marketing​ ​that​ ​would​ ​reach​ ​their​ ​customers​ ​and​ ​their​ ​goals.​ ​Being​ ​strategically​ ​creative​—​it's what​ ​we​ ​do.
Structural​ ​Concepts​ ​mission​ ​was​ ​to​ ​"reveal"​ ​the​ ​beauty​ ​and​ ​function​ ​of​ ​their​ ​​Reveal®​ ​product line​ ​and​ ​boost​ ​sales.​ ​We​ ​were​ ​all​ ​over​ ​it.​ ​With​ ​photography​ ​and​ ​videos​ ​that​ ​conveyed​ ​the aesthetically​ ​pleasing​ ​product,​ ​a​ ​new,​ ​super-slick​ ​website,​ ​wow-factor​ ​print​ ​pieces,​ ​and​ ​digital ads,​ ​Reveal®​ ​successfully​ ​launched,​ ​reaching​ ​32​ ​dealers​ ​and​ ​counting.​ ​Sales​ ​continue​ ​to​ ​rise​ ​- we​ ​can't​ ​wait​ ​to​ ​see​ ​how​ ​far​ ​they​ ​climb!

We figured, the best way to launch a product that's beautiful and performs well is with beautiful creative that performs well too! Not only did our campaign look pretty, but it worked. Why? Because there was a strategy behind it — that's key.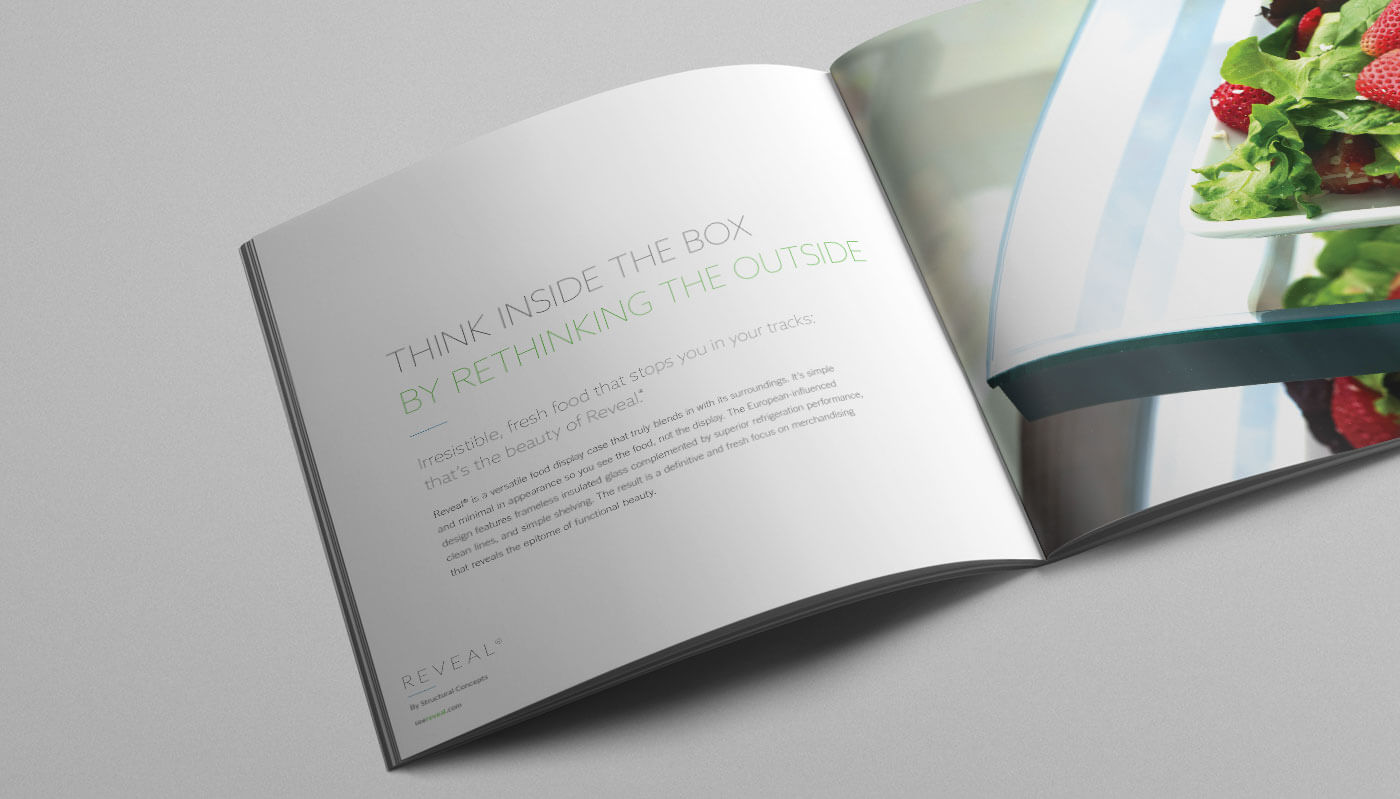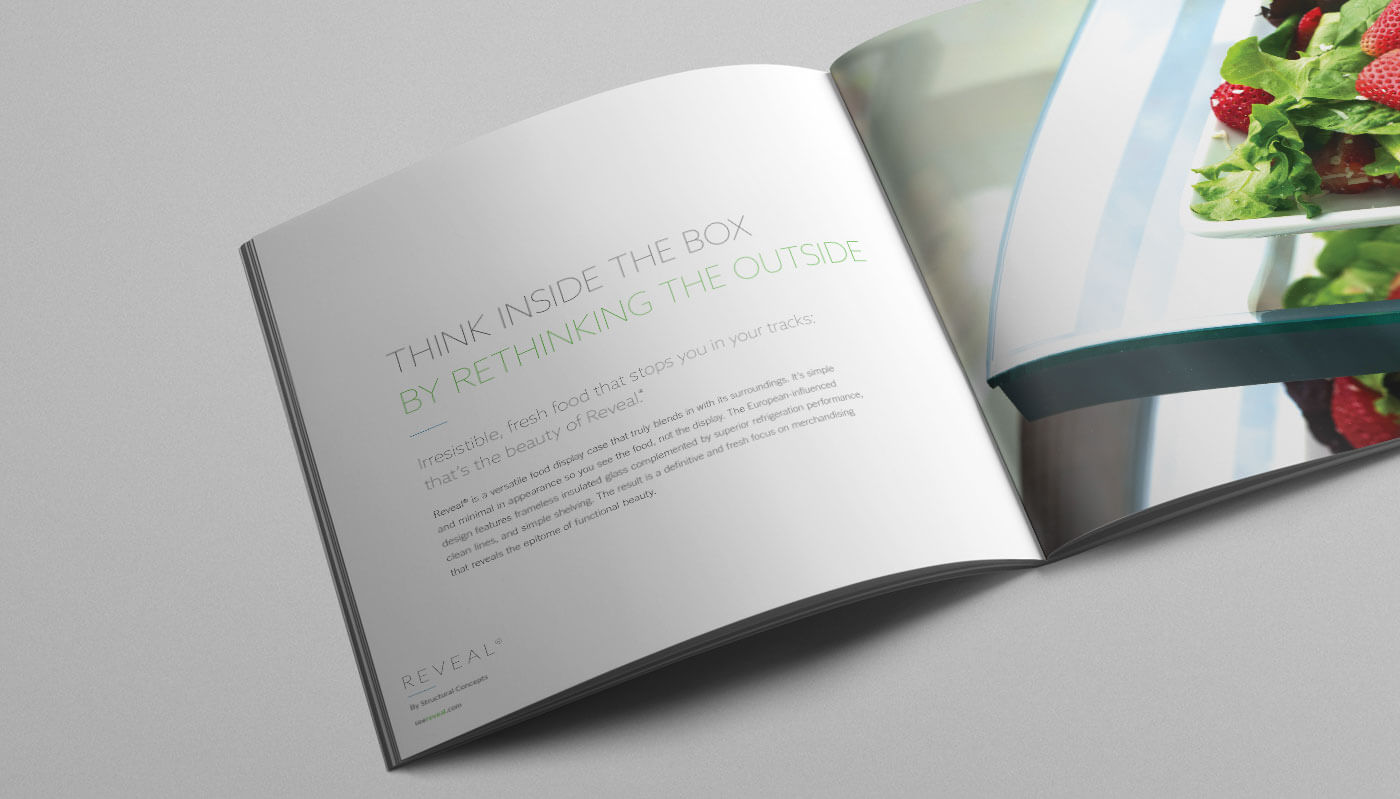 We like to call this the "WOW" piece that drove the design of the rest of the deliverables. A multiple page booklet with self-containing, pull-out informational sheets, focusing on the visual beauty of Reveal® through amazing photography and minimal but strong content. Attention-getting? You bet! More importantly, a valuable resource to encourage dealers to buy.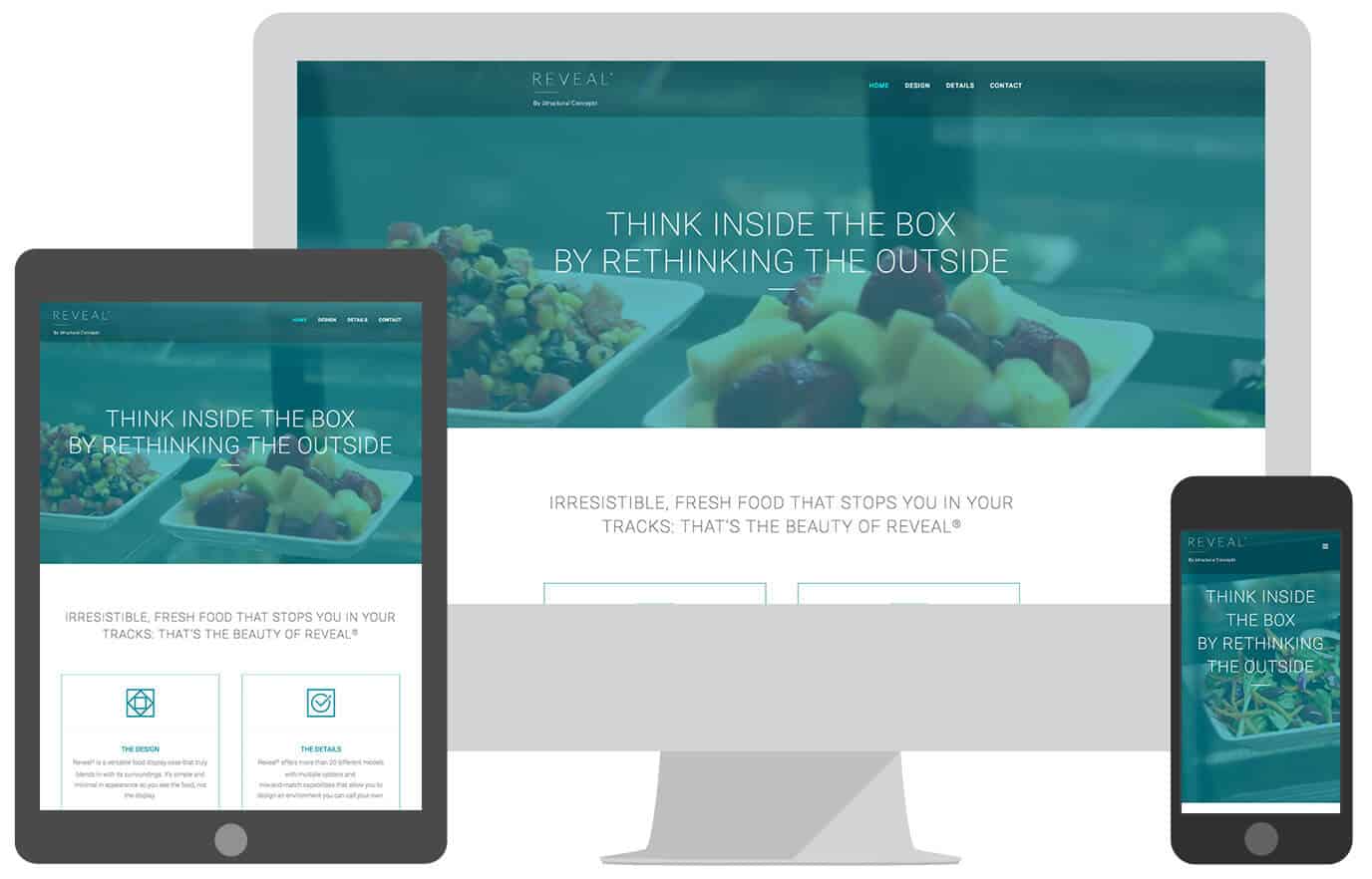 We​ ​were​ ​tasked​ ​with​ ​showing​ ​off​ ​the​ ​frameless​ ​lines​ ​of​ ​a​ ​food​ ​display​ ​case​ ​that​ ​blends​ ​into​ ​any decor.​ ​So,​ ​we​ ​designed​ ​a​ ​website​ ​featuring​ ​flowing​ ​photography​ ​and​ ​video​ ​blending​ ​flawlessly with​ ​content​ ​conveying​ ​a​ ​consistent​ ​message​ ​of​ ​functionality​ ​and​ ​aesthetics,​ ​both​ ​appealing​ ​to dealers​ ​and​ ​their​ ​customers​ ​alike.​ ​We​ ​also​ ​thought​ ​it​ ​was​ ​important​ ​to​ ​keep​ ​it​ ​simple​ ​(kind​ ​of​ ​like the​ ​Reveal®​ ​product​ ​itself).
The​ ​fact​ ​is,​ ​video​ ​works.​ ​80%​ ​of​ ​visitors​ ​to​ ​a​ ​website​ ​will​ ​watch​ ​a​ ​video​ ​vs.​ ​the​ ​20%​ ​that​ ​will​ ​read text.​ ​Numbers​ ​not​ ​to​ ​ignore.​ ​Revel​ ​created​ ​a​ ​short​ ​video​ ​to​ ​show​ ​off​ ​the​ ​​Reveal® ​product​ ​in​ ​all​ ​its glory,​ ​placing​ ​​Structural​ ​Concepts​ ​at​ ​the​ ​top​ ​of​ ​the​ ​list​ ​for​ ​dealers​ ​looking​ ​for​ ​food​ ​displays​ ​that​ ​work as​ ​good​ ​as​ ​they​ ​look.