Take it from Captain Obvious: one of the biggest challenges manufacturers face today is finding skilled labor. But what if you looked at it in a different, not-so-obvious way? Have you ever considered that the challenge is actually skilled labor finding you?
The fact is there's been a shift in the job market, a sort of reversal of the hiring and job seeking processes. It's no longer about you choosing an employee. It's about an employee choosing you. While this flip-flopped situation might conjure up unsettling memories of being the last one picked for dodgeball, don't panic. We have plenty of suggestions to help you adjust from being the one seeking to the one who's sought-after.
Give them a reason to pick you: offer an apprentice program
What better way to attract new talent than by offering to show them the ropes while getting paid? Apprenticeships are a great way to recruit potential employees and train them to gain exactly the skills you want, allowing you to build your workforce from within. It's not enough to just offer an apprenticeship, however. You need to let people know about it!  We helped our customers at Titan Tool make sure their program got the attention it deserved by featuring it on their homepage.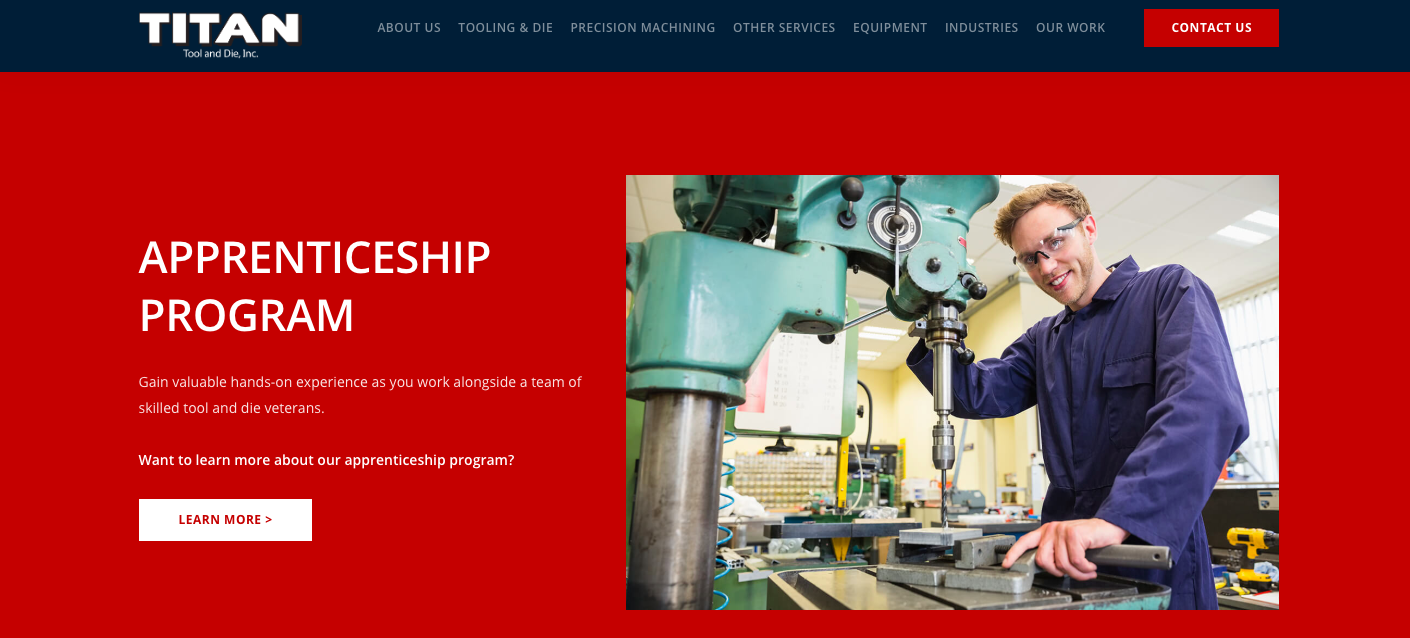 Make it easy to find you: optimize 
The impact of search engine optimization on rankings and results should not be underestimated. You want to pop up as a prime choice when someone searches for employment online? Make sure your website is fully optimized with mobile-friendly design, unique content and researched keywords in titles and meta descriptions, not just in copy. This increases your odds of hiring because it increases your odds of search engines offering you up as a result on page one. It also shows you are modern and knowledgeable – two major characteristics today's job seeker looks for in an employer. Optimize, and when they seek, they shall find. Of course, once you're found, your website and brand better be up to snuff to reinforce that modern and knowledgeable seed you just planted.
Make learning more and applying a breeze: build the ultimate career page
Having a page on your website designated for potential employees is a must if you want to be chosen as an employer over your competitors. However, a strong career page should include more than just a list of open positions and job descriptions. Make sure there's a concise contact form and if possible, the ability to upload a resume. That makes life easier for both you and the applicant! Most of all, be sure to showcase your people, culture and brand. Check out this example of a career page we developed for our client, Liv Communities.
Give 'em what they're looking for:  a company culture that's hard to resist
Yes, wage is always going to be a main consideration (another Captain Obvious claim), but beyond that, one of the most important characteristics the next generation of job seekers is looking for in a potential employer is an appealing company culture.  Studies show that the next wave of laborers are seeking a work environment that is comfortable and inviting and offers a great life/work balance, flexibility, opportunity to grow, employee appreciation programs and friendly, helpful coworkers – all things that make them happy to come to work each day, and just as importantly, want to keep coming! In short, taking the time to cultivate a strong company culture, and highlighting employees, events, and programs that are a part of it, will both attract and retain employees. And creating a video is a great way to share your story – what you do and how you do it – highlighting key staff, your favorite clients, services, and your processes that set you apart from the competition. Even one made up of simply employee testimonials can do the trick. This is a great example from our friends at MOKA:
Meet them where they are: get social
Here's some tough love for you: If you are not actively using social media, you are not making anyone's short list of potential employers, period.  Don't fight it, embrace it! 139 million users are active on Twitter daily. There are over 2 billion monthly Facebook users. You Tube ranks right up there with Google in terms of people searching for information. That's an amazing amount of opportunity to reach your audience, showcase your company, its people, its culture (your culture video!) and present yourself as an employer of choice. Your audience is on social – you need to be as well. You can bet your sweet bottomline that potential employees will look you up, try to learn more about you and determine if you're a good fit. So, get out there and get social – your search for skilled labor depends on it! For inspiration, check out this video we used to create a hiring campaign on Facebook for Global Technologies. It exceeded their goals for both applicants and hires.
Just as the world of manufacturing has changed, so too has the incoming workforce. It's important to acknowledge this fact and adjust your game plan by using the guidelines above. Need some help? We specialize in shaking things up and challenging the norm – who better to break you out of what was in the past and help you get to what the future can hold?