In the fall of 2010, we were looking for the right way to announce Revel to the world. In our case, the world mainly consisted of Muskegon and the surrounding communities. We'd started planning behind the scenes, but no one outside of our close circle knew about Revel. Then I got a call from Chris McGuigan, the then President of the Community Foundation for Muskegon County, to talk about what's happening in downtown Muskegon at their annual meeting. We had our opportunity.
Revel's story is a Muskegon story. We're proud to be from this gritty, gutty, roll-up-your-sleeves-and-get-to-work, blue-collar town. As I took the stage at the Frauenthal Theater on November 17, 2010, the audience heard the news for the first time about a new marketing agency called Revel. We were off and running.
When I think back on the past decade, I'm most proud of the people I've had the opportunity to work with and the relationships we've built. Revel's had some big wins over the years. We wouldn't be where we are without the talented group of Revelers that have worked here. One-quarter of our team has been at Revel since Day One, and two-thirds have worked here for over 5 years. For a company that's only 10 years old, that's some impressive longevity.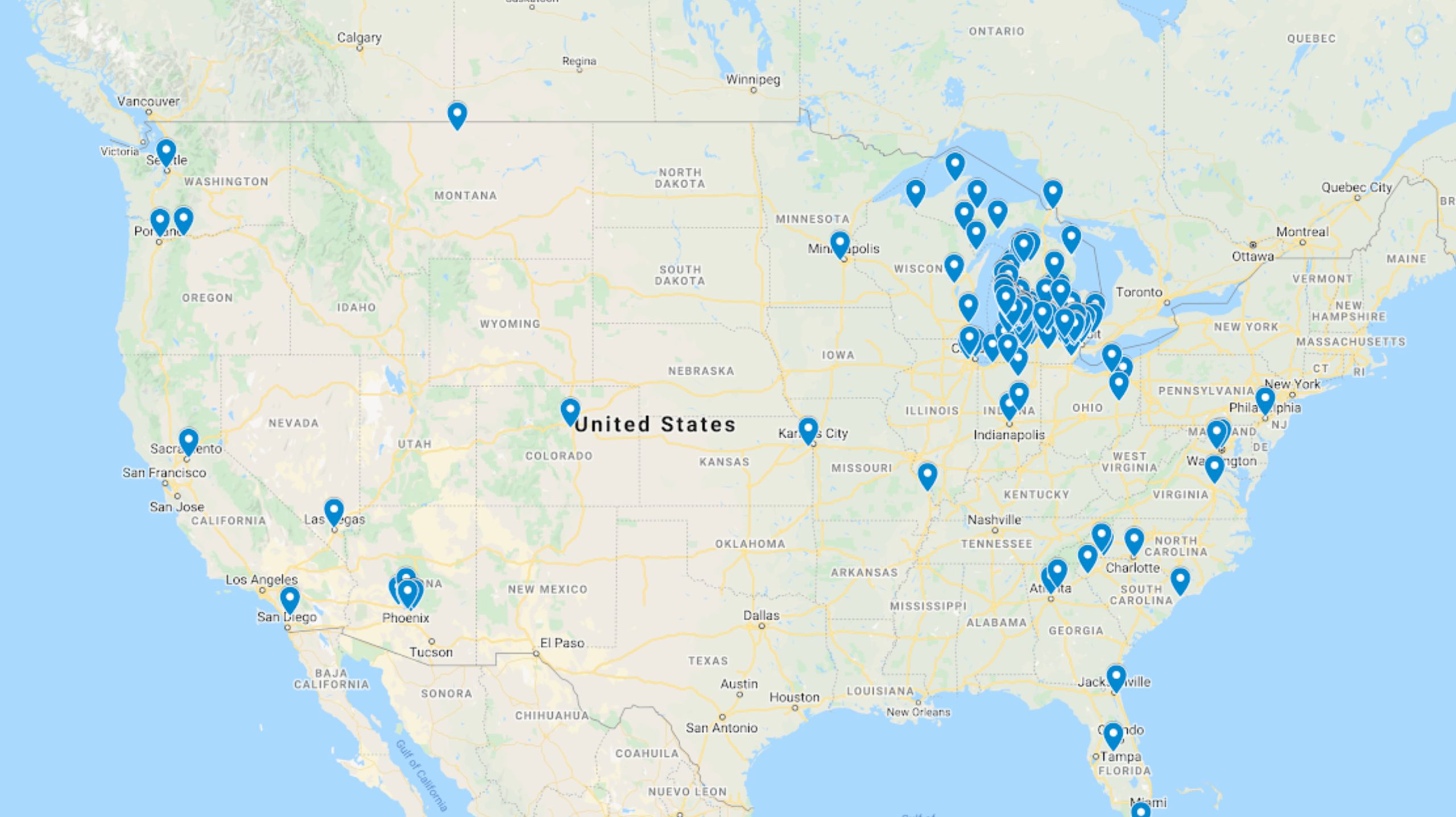 Today, the majority of our clients are Michigan-based, but we do business all over the country. We work with about 200 different companies each year. Since we started, we've done business with 658 different companies and counting.
I hesitate to mention the most memorable moments from the past 10 years for fear that I'll leave something out. It's like being asked who your favorite kid is. However, a few things do stand out.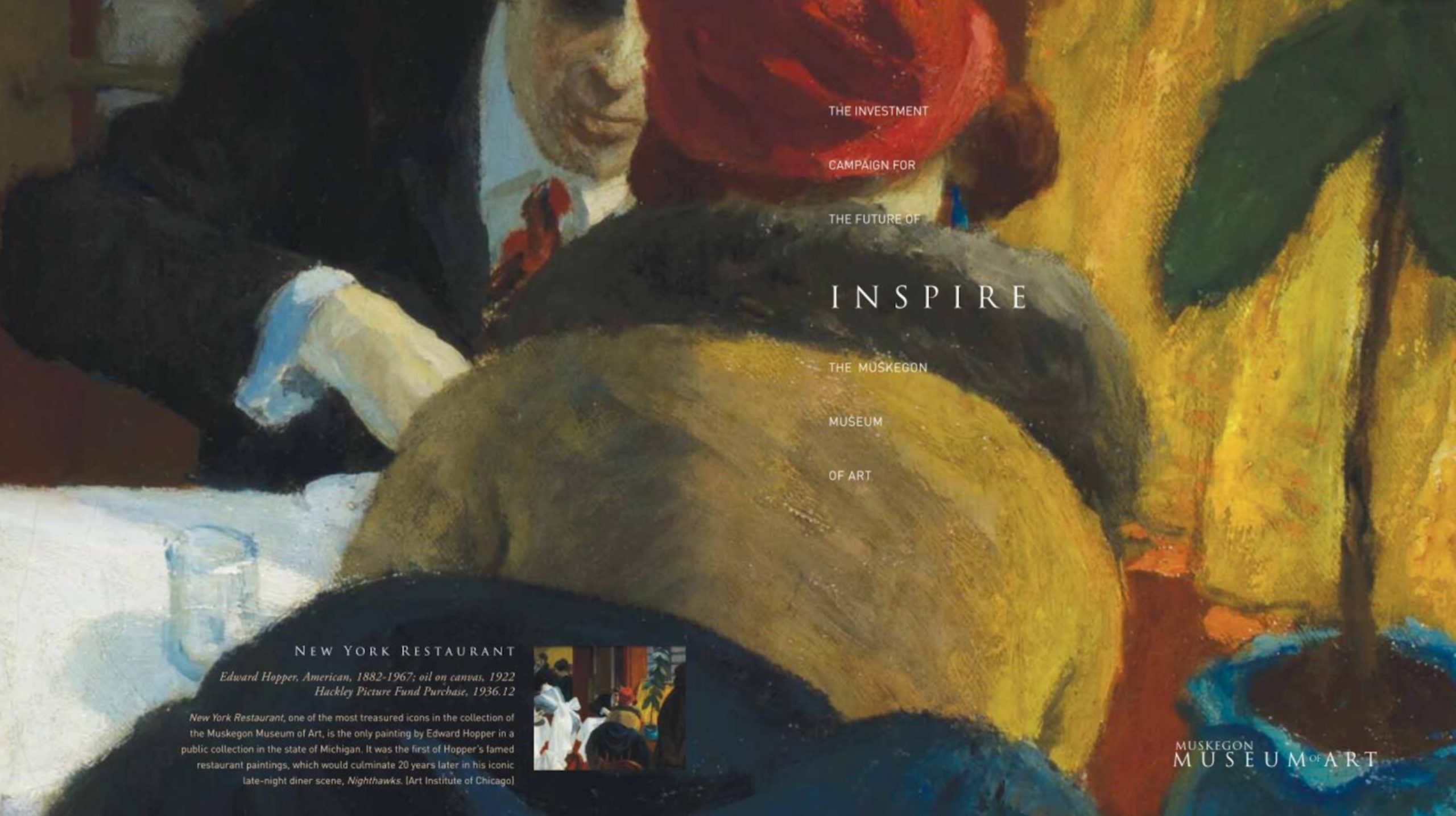 Inspire
We've had the opportunity to be part of quite a few fundraising campaigns over the years like the $1 million Hackley Library "Building of Character" campaign, Mercy Health's Comprehensive Breast Center "Be Here" campaign, and a dozen or so United Way of the Lakeshore campaign videos. One of the most memorable fundraising campaigns was the Investment Campaign for the Future of the Muskegon Museum of Art. Working for the museum's Executive Director at that time, Judy Hayner, we came up with the 2012 Inspire campaign that included a beautiful 24-page booklet, video, website, and all the campaign collateral. At the time, it was the largest capital campaign in Muskegon County's history. Our work helped raise over $7.5 million for the museum.

Revel Rouser
Naming a child after a relative, close friend, or famous person is one of the highest honors that can be bestowed on someone. Having a beer named after your company is a close second. That's precisely what our friends at Unruly Brewing Company, Muskegon's first craft brewery, did for us. Prior to the brewery's opening in 2013, co-owners Eric Hoffman and Jeff Jacobson invited a few of us to come over and sample some beer. We walked across the parking lot from our office and they handed us an IPA, which to our total surprise, was called Revel Rouser. They surprised us again at our holiday party later that year when they rolled out a kegerator decorated with the Revel logo that was stocked with our namesake beer. We may be biased but if you're a fan of big, juicy West Coast IPAs, this one's hard to beat.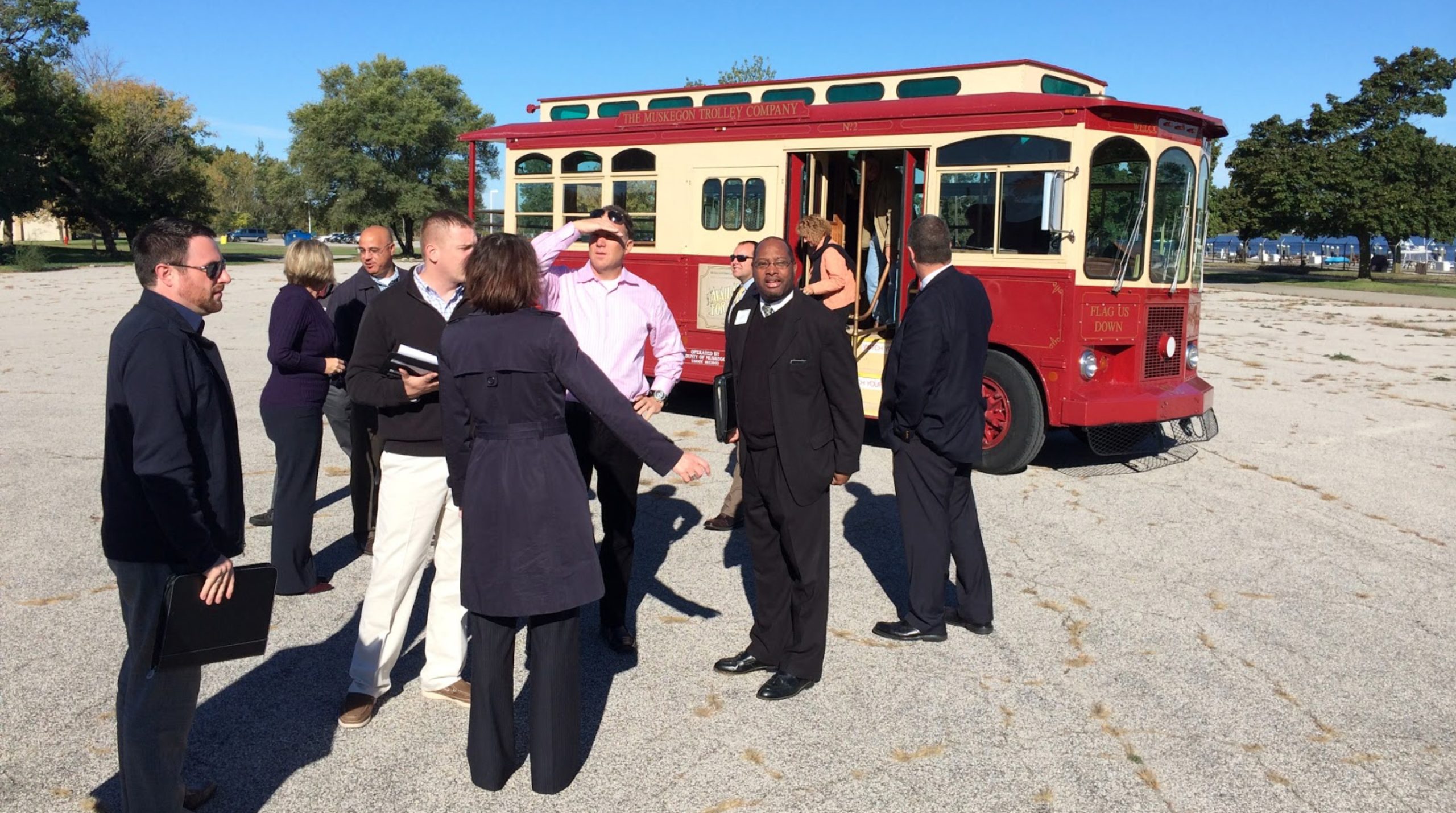 Trolley Ride
On October 14, 2013, I was invited to take a trolley ride with the City of Muskegon's new City Manager, Frank Peterson. Frank loaded a bunch of us up on the trolley and off we went. His only direction was, "Shout out any ideas you have and we'll talk about them". This was a pretty accomplished group of Muskegon people. You had the president of the chamber of commerce, head of the economic development organization, real estate developers, politicians, city staff, and business owners on board. Some of whom I knew well at that time, and others not so much. I sat quietly and listened for most of the ride. When we got to the dated-looking, purple "Welcome to Muskegon's Shoreline" sign I couldn't hold it in anymore. I said, "That sign has gotta go! It screams 1990." Someone on the trolley said, "More like 1980." After the ride was over, I emailed Frank and said, "Let Revel redesign that sign for you. It'll be our welcome to Muskegon gift."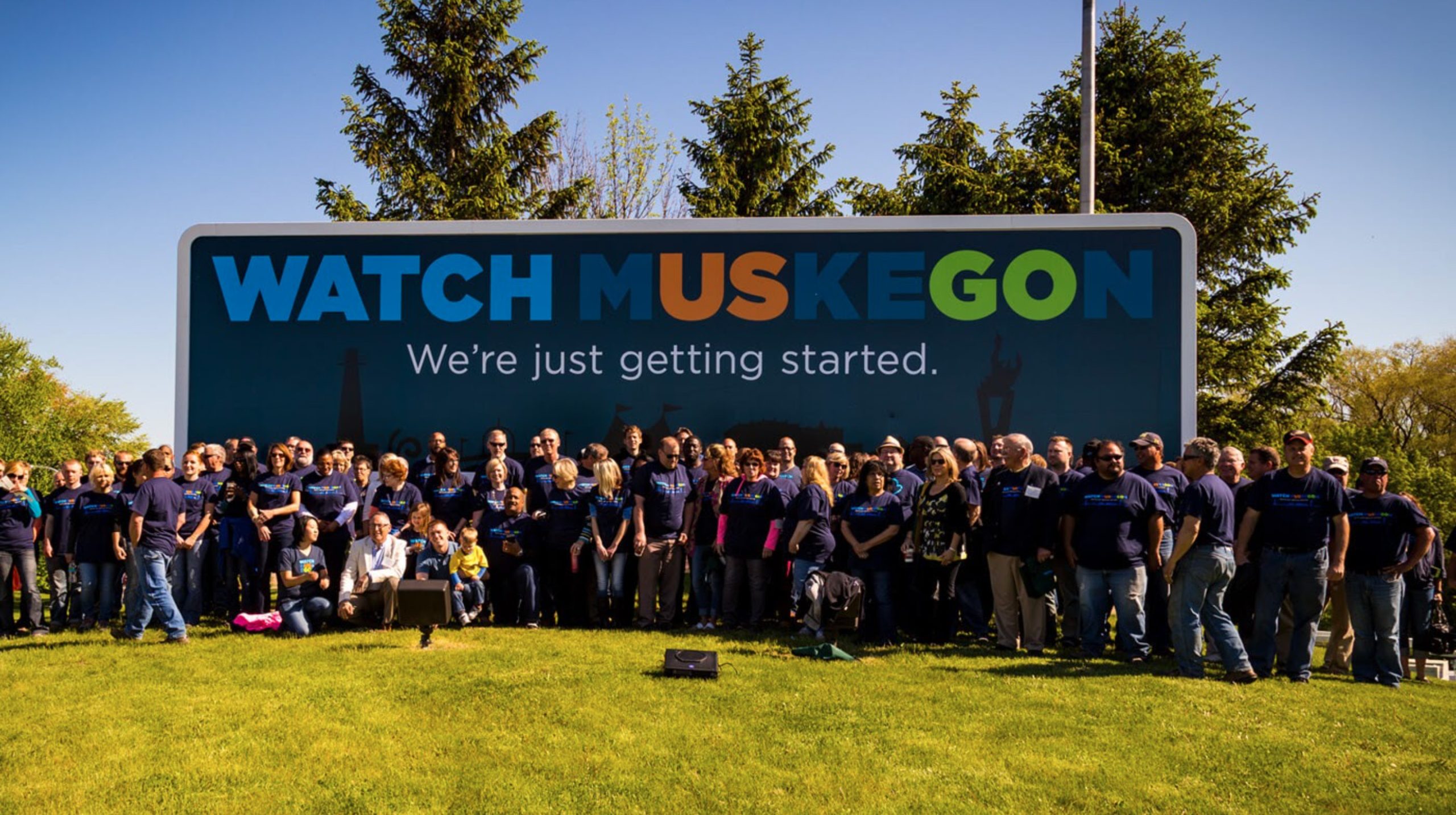 Watch Us Go
In 2014, Frank invited me to a meeting at Unruly Brewing Company. A group of community stakeholders was present representing the City of Muskegon, Muskegon County, Chamber of Commerce, Convention and Visitors Bureau, West Michigan Works, and a few others. They were talking about a community branding initiative to improve Muskegon's image that was in the embryonic stages. Frank showed the designs for the billboard we did for the City. The group asked if they could use it for the county-wide campaign. That's the story of how Watch Muskegon was born. The campaign was the brainchild of our creative director Pete Lounsbury. The rest, as they say, is history. Over 5 years later the campaign is still going strong. The community ponied up over $250,000 in private money to fund the campaign in the first three years alone. Talk about marketing that works as good as it looks. An independent study showed that 95% of Muskegon residents recall seeing or hearing messages related to the Watch Muskegon campaign. The campaign has helped positively influence the image of Muskegon, both locally and throughout West Michigan.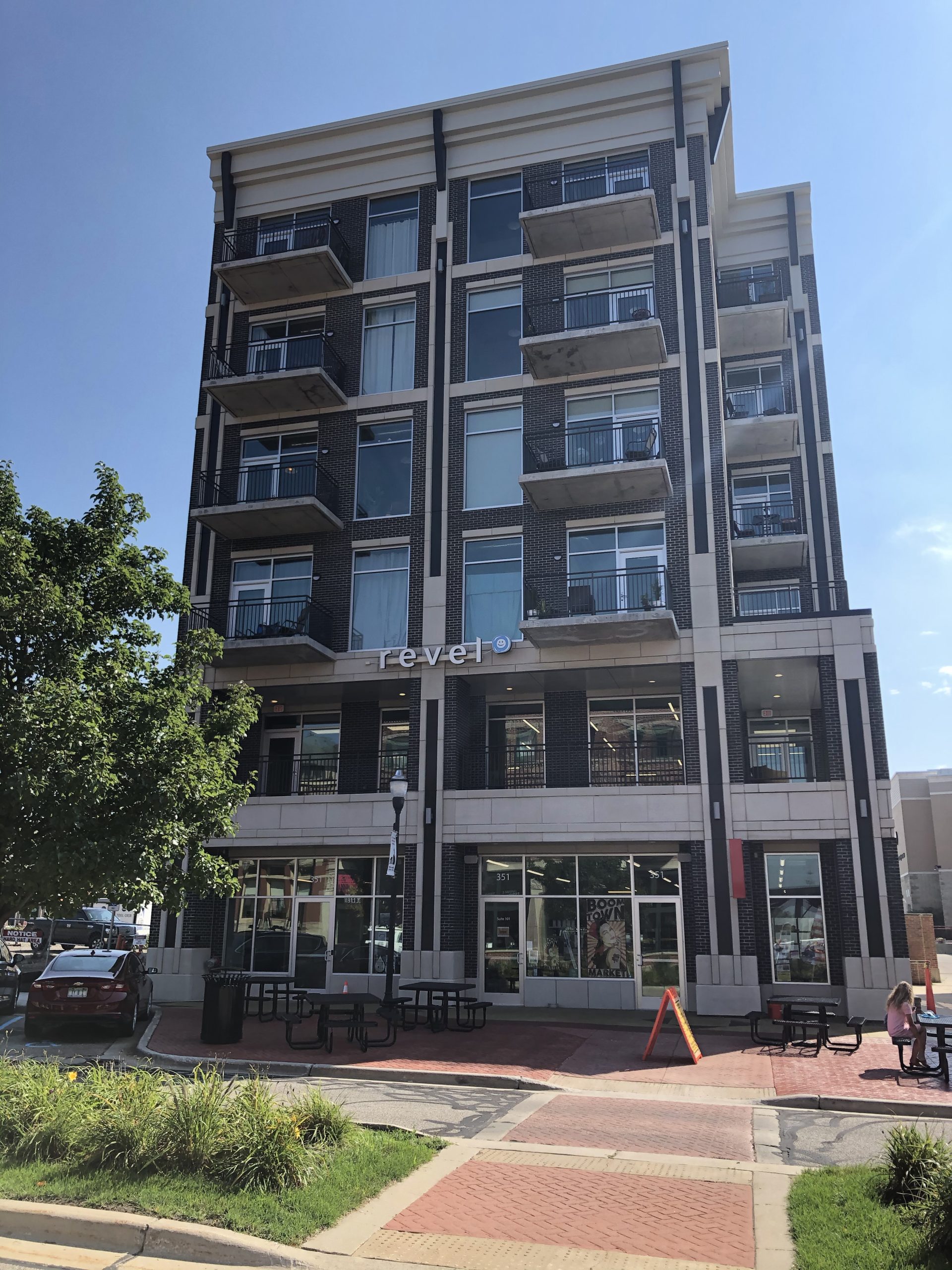 The Office
Over the past 15 years, we probably looked at every conceivable building in downtown Muskegon with the hopes of owning our own office someday. In the summer of 2019, we made that dream a reality when we moved into our new 6,000-square-foot office in the Lakeview Lofts building on Western Avenue. The project was backed by a Muskegon All-Star Team that included first-time developers Chris Benedict and Josh Canale and artwork for our walls, compliments of the Muskegon Museum of Art's regional show. Our building was the first multi-purpose building built downtown since 2005. Over $300 million of public/private investment dollars has been invested downtown since the Mall was demolished in 2001.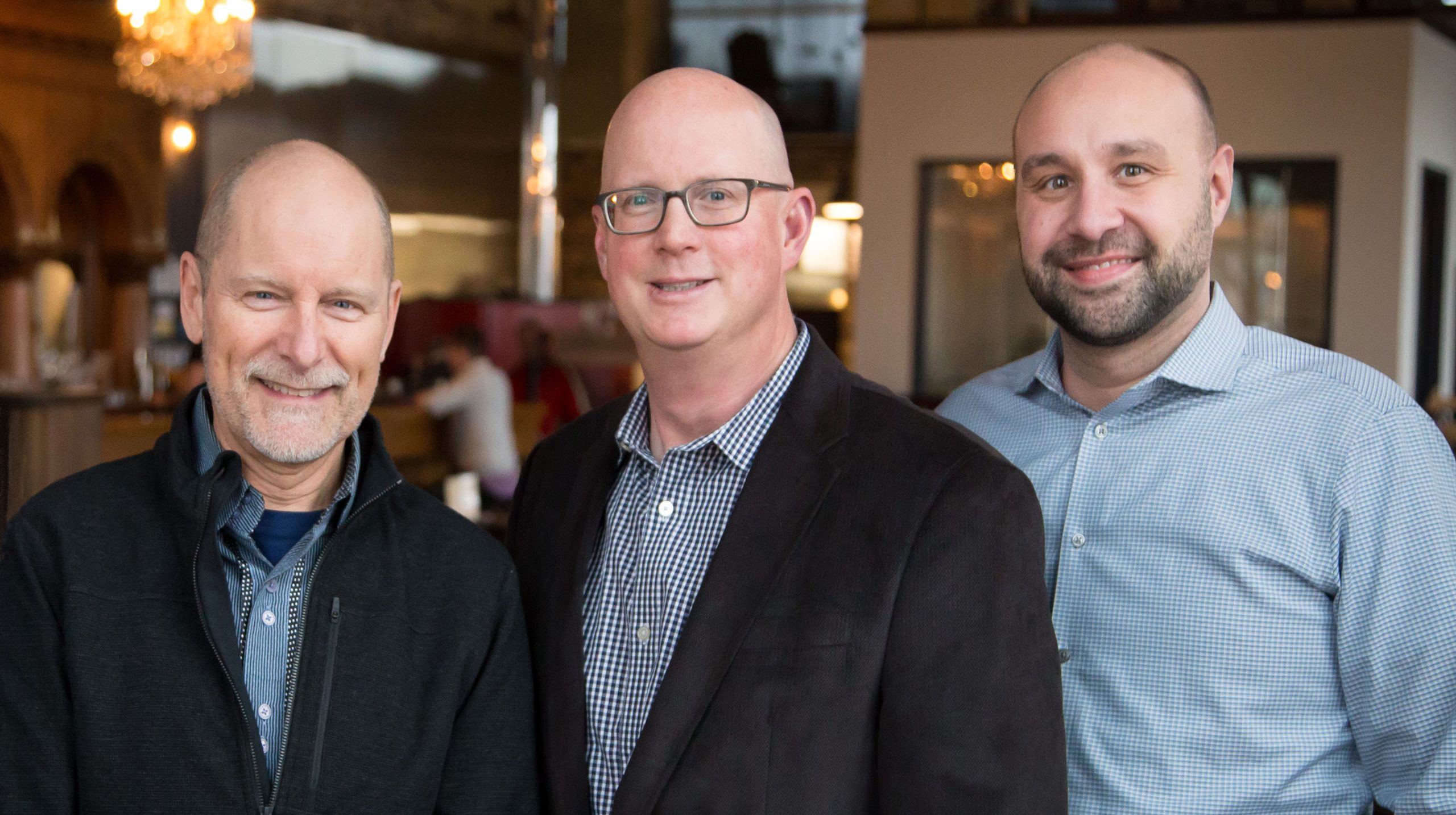 Borns
A few years back, we decided that marketing to a niche would be one of our keys to success. In early 2020, we acquired Borns B2B to further that specialization. Their branding and marketing processes are designed specifically for business-to-business (B-to-B) marketers. Founder Randy Borns and his team have brought 30+ years of experience to allow us to better serve this growing segment of our business.
Thank you, Muskegon, and thank you to everyone who's been part of our journey for the past 10 years! We couldn't have done it without you. Here's looking forward to what the next decade holds.